It's supposed to be God, not government, that decides when a Catholic church that's been welcoming parishioners since 1899 should burn its last candle.
But as the sun's light slowly burnt away the lingering fog surrounding La Lomita chapel at 7 a.m. Saturday, a team of activists was launching the start of a massive effort to convince lawmakers that walling off part of the Rio Grande Valley — and trapping the church between a wall and a river — is a sin against a community.
"It would be like having a church in a prison," said sister Guadalupe Cortez.
Recent reports that the Trump administration is moving ahead with the president's campaign promise to build a "big, beautiful wall" on the southern border means the clock is ticking for people like Stefanie Herweck, a member of the Lower Rio Grande Valley Sierra Club's executive committee.
Herweck was part of an organizing committee that led a protest Saturday against the construction. Hundreds of people gathered at Our Lady of Guadalupe Church in Mission and made the four-mile trek to La Lomita Chapel.
"This is the beginning [of our efforts], but like I tell people, we have weeks and not months," she said. According to a map of where the first phase of the wall will be built, there are increasing concerns that La Lomita Chapel, which stands fewer than 300 yards from the Rio Grande, will sit behind the barrier, Herweck said.
Though mass is usually celebrated at the Our Lady of Guadalupe Church, the chapel still hosts annual retreats and camps, and is part of a Lenten procession every year, said Noel Cortez, a Mission resident who attends the celebrations and participated in the march on Saturday.
"My little cousin is four years old and we brought him down here recently [to see the church]," he said. "And to think that within the next four years a wall could be built, he won't ever know the story and won't ever be able to come see it again. It makes me feel uneasy, it's upsetting."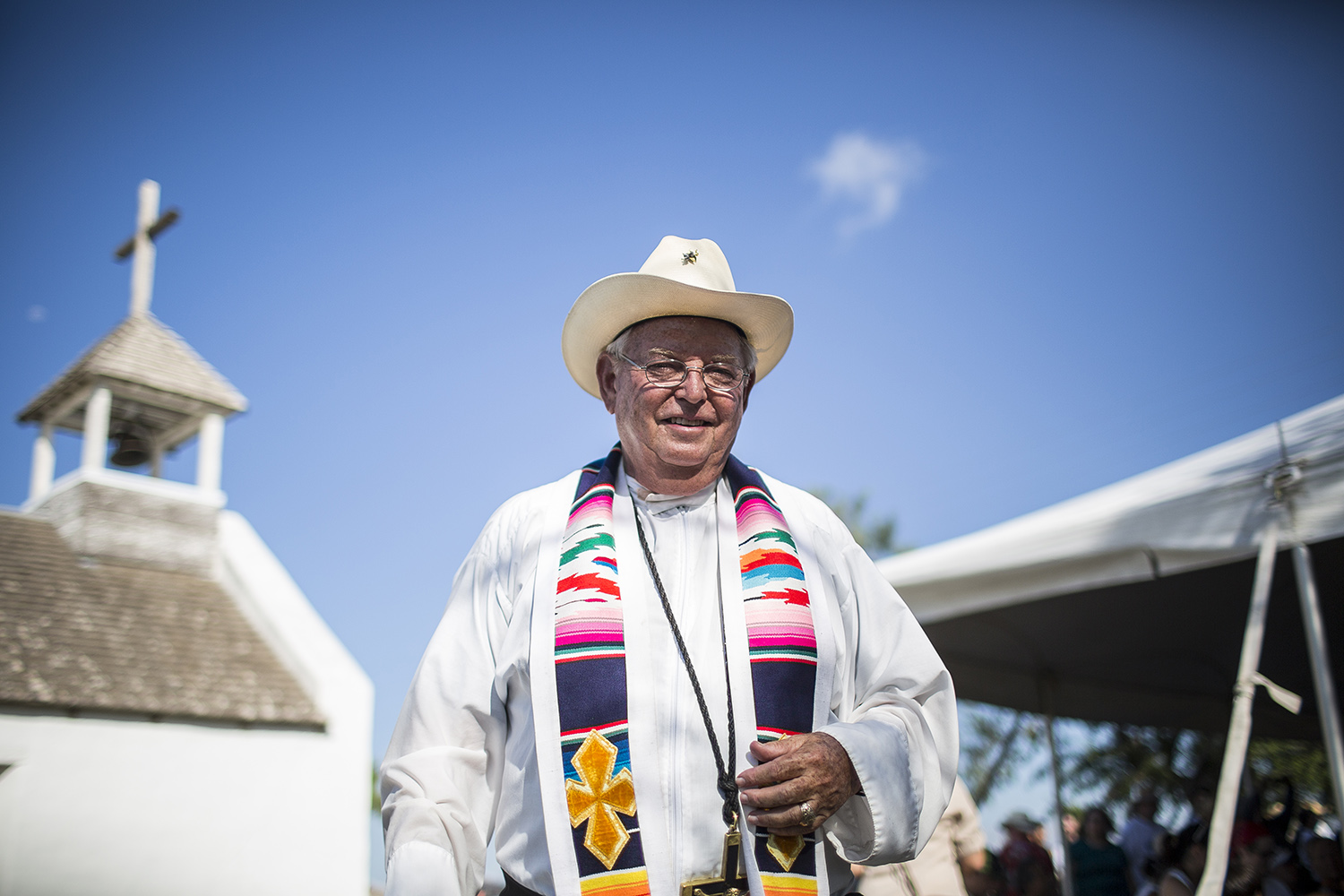 The barrier would also run through the Santa Ana Wildlife Refuge, a federally-owned swath of land that's home to hundreds of native bird, plant and animal species.
The Texas Observer reported that the government has been secretly planning that effort for months and settled first on federal land to avoid the costly efforts associated with private land condemnation.
It's a familiar battle for Herweck — she also fought against the 2006 Secure Fence Act and the subsequent barrier that was built after the legislation was signed by President George W. Bush. What's different, at least for now, is that Congress hasn't appropriated money for Trump's wall.
The U.S. House of Representatives last month approved adding $1.6 billion to a defense spending bill to build part of the wall, but it's unclear whether the U.S. Senate will accept that measure.
"We have weeks [before] the Senate comes back and starts working on the budget," she said. "We want to make sure that people understand that communities are going to suffer immeasurable harm."
She said it's key that U.S. Sen. John Cornyn, R-Texas, understands that "shifting money around" isn't in the best interest of Texans.
Last week, Cornyn filed a bill that would authorize about $15 billion for more border agents and physical barriers where the Department of Homeland Security deems them necessary. His amendment also requires that DHS officials engage local officials and include them in their planning.
But Herweck said she's heard that before.
"[In 2007], what CBP reported as a "consultation" was a meeting in a restaurant with 15 people," she said. "We cannot have legislation that says that Customs and Border Protection will make smart and informed choices based on consultation with locals, because that won't happen."
But it's also unclear if DHS will wait for an appropriation. The Tribune reported last month that the government would use existing funds to begin construction in November. And the Observer reported that DHS could also transfer money to begin construction.
As the situation plays out, others don't see a difference between Trump, Bush, or state and local governments.
Juan Mancias, a member of the Carrizo/Comecrudo tribe of Texas, said the wall effort will desecrate land that never rightfully belonged to anyone but the country's natives.
"Our blood runs through this river here, we are the Carrizo/Comecrudos," he said. "They can tear the mission down, I don't care. But they're not going to tear the land down and dig up the people that are here. You're walking on the flesh and bones of my people."
This article originally appeared in The Texas Tribune at https://www.texastribune.org/2017/08/12/opposition-trumps-wall-increases-rio-grande-valley/.
Texas Tribune mission statement
The Texas Tribune is a nonprofit, nonpartisan media organization that informs Texans — and engages with them — about public policy, politics, government and statewide issues.