Solar San Antonio joined ACE Technologies at Camp Discovery to help kids build an all-electric vehicle with solar power.
The camp, which began July 15, is an annual event open to 150 children diagnosed with cancer. The campers spend a week having fun, learning new things developing as people.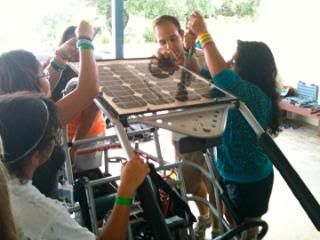 This year,
ACE Technologies
introduced a new project to Camp Discovery. They helped the kids build an all-electric solar powered vehicle to teach them about the benefits of alternative energy and the important role it plays in the future.
With support from the
American Cancer Society
and a host of other sponsors, ACE Technologies was able to obtain the materials necessary to build the vehicle. Not only was this project an educational experience for kids, but it be auctioned off at the American Cancer Society's annual
Cattle Baron's Gala
. Funds raised at the auction will be donated to cancer research to help children like those at Camp Discovery.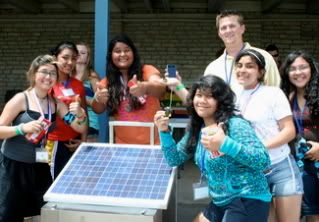 As an event partner,
Solar San Antonio
presented children with information on how solar energy is can be used to power vehicles. With help from volunteers, campers installed a thin film solar panel on the Camp Discovery vehicle. The staff also brought a
photovoltaic
demonstration unit to help campers understand how energy from the sun is converted into usable power.
ACE Technologies is an engineering consulting firm helping those interested in electric vehicles. For more information on their role in Camp Discovery and their services, please
visit their website
.
For more Solar San Antonio news and events, visit them on Facebook and Twitter, or sign-up for their newsletter.