SA Tomorrow and VIA want to know what your priorities are for transportation in San Antonio. Let them know now by completing this survey by April 3 (click here to take the survey in Spanish).
San Antonio is expected to grow by more than 1.1 million people by 2040, almost doubling the population of the city. The Multimodal Transportation Plan is a city-wide planning effort to identify future transportation needs for San Antonio through the year 2040.
The Multimodal Transportation Plan has partnered with VIA Vision 2040 Plan on a new survey. The survey gives participants the option to rank multiple priorities that will help shape the final plans produced by the Mulitmodal Plan and VIA Vision 2040. Take the survey today and help plan for 2040. The last day to take the survey is April 3.
Click to take the SURVEY in English | Click to take the SURVEY in Spanish.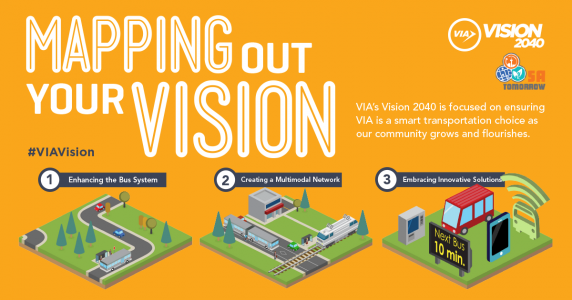 NEW: Multimodal Transportation Plan Fact Sheet
The Multimodal Transportation Plan will take into consideration all modes of transportation, including auto, freight, rail, transit, biking and walking. The process kicked off in April 2015 and will continue through late spring, 2016.
Stay updated with the plan's new Winter/Spring 2016 Fact Sheet.